Download
Download Video Comparer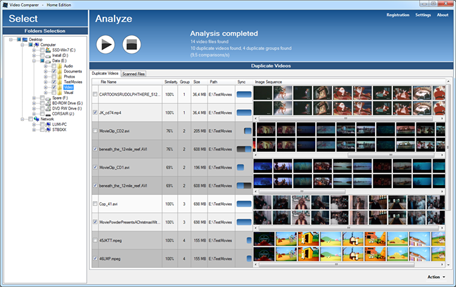 Thank you for your interest in Video Comparer.
Try before you buy! The fastest way to get started detecting your duplicate videos is by downloading the Free Edition of Video Comparer.
Last Version
Version: 1.07.001
Windows 64-bit
Release date: 19th April 2020
Limitations to the Video Comparer Free Edition
Free 30-day Trial
Some of features are available only in Home/Expert/Pro Edition. Compare the editions for more information.
Latest Release Notes
Version 1.07.001 (19th April 2020)
Added select/unselect/invert videos by group with contextual menu (right click).
Added play video on double click file name.
Added open explorer on double click path name.
Managed image rotation parameter from codec tag.
Fixed unrecognized cache data between two versions.
Fixed notification of new software version (for future versions).
Fixed Windows XP support.
Version 1.07.000 (22nd February 2020)
Analysis speed improved by 1.9 times on a standard database (2000 videos).
Improved duplicate detection by 5%.
Added rename file feature in the contextual menu.
Added export feature of the duplicates list to CSV format.
Added auto-selection of the lowest/highest image resolution.
Fixed VP9 & AV1 codecs.
Updated the video copy detection Benchmark.